In the year 2000, as part of the Millennium Development Goals, the United Nations set an ambitious objective for humanity: Achieve Universal Primary Education by 2015.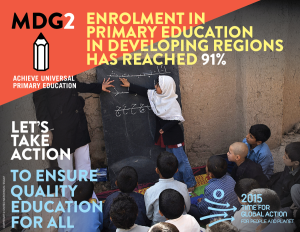 Even if the objective was not 100% achieved, a lot has been done!
Unfortunately the Millennium Goal was only on access to primary education so many developing countries focused on bringing children to school. We have been in Africa last year and we visited several schools. Often there are more than 100 children per class and in some cases there can be up to 200!!! In such a context it's impossible to offer quality education for all.
That's why in the new Sustainable Development Goals for 2030 the focus is set on Quality Education!

We will attend UNESCO's Mobile Learning Week because we believe that technology and video games will play a key role in achieving Quality Education for All !