There are days, when you wake up and you want to tell a different history about this world. There are days, when you abandon the comfort zone and take a ride on the dark corners of the human soul.
mai saki, a Spanish photographer, focuses her camera far away from kindness. She develops the drama and the tragedy of the migrants in the Greek island of Idomeni and she reveals the shame of the European borders.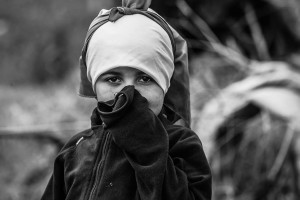 Is it raining in Idomeni?
It never rains but it pours. It is so sad to meet people running away from a war, simply looking for a peaceful land and see them stuck and rejected. They are deported. They are split between terror and the hope. And they don't
understand why.
Most of them are middle class. There are professionals. They left nothing behind because they had nothing left and they come to Europe to have a future.  They want to carry on with their life. They miss their jobs, their day to day routine. The same routine we have here in Europe.
When the war comes everything gets destroyed. When the houses fall down and the streets are not safe, there's no choice. Desperation must be huge to put your family in a raft through a dark sea towards an uncertain future.
But still it's better than stay and seethe bombs and the outrage erase the life you build. Erase your relatives. Erase your neighbors. Erase all our whole world.
We have a memory problem in Europe. We have agreements and treaties… and we breach them.
It's raining death and we have a big oblivion's umbrella.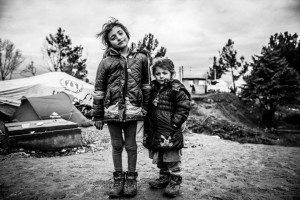 You talk about hope. How did you focus on it?
In their watchful eyes. Every single look is a story who dreams an happy ending. Especially kids. Most of them roam by themselves. They arrived on the shore alone. Kids lost everything they knew on the way. And they don't have the skills and the resources to get it back.
There are boys and girls that were born in the conflict and they don't know nothing else than bombs and destruction. The elders tell you they want to go back to school. At Home. They want to have a safe roof. They want and deserve a safe routine.
Many kids disappear at the borders. It is a chaos and they lost their parents. Or they arrived orphans after the sea crossing. The shore is "terra incognita".
We must recover this generation. They already lost a lot and we cannot forget about them. Childhood is a sacred land, and we must to protect it from wars, mafias, human traffic…
In Idomeni you see kids' broken childhood. They carry wood to keep themselves warm. They learn how to stop crying after a long walk to nowhere. They have no idea about our fights, our insanity. They don't understood. They need love, food, home… everything.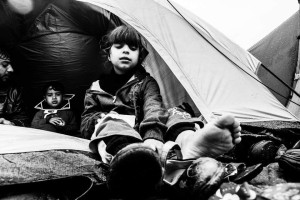 Back to coloring life!
Full color! There are so many responses from NGOs and institutions. And from normal people like you! When you told me about the VGWB project and you asked for pictures … I thought it was great!
EduApp4Syria! Wow! It's fantastic that technology can be applied to make wonderful things. An alphabetization program for little boys and girls. That's an awesome idea!
Because all of them have a Smartphone. It's the most precious property. And there are kids, they love playing. Even with a wood stick or the only ball in miles.
Using technology for a learning program. Video Games Without Borders sounded something unbelievable until you tell me about the project. It makes me so happy to contribute with my pictures.
Also they usually can find Wi-Fi quite easily. When they arrive at places they organize to find internet connection and recharge their smartphones…
It is the time to use the technology to build beautiful things. And a video game can take kids out of reality and get them back to enjoy learning and playing.
We must be involved in the construction of another society. A new clever civilization can teach us about sharing, not destroying.
That's the picture I would like to take!