Projects

The game is available for Download for FREE for both Android and iOS. Please, spread the word: the more kids we reach the better it is!

So far we had more than 15.000 downloads including both platforms and the players feedback has been extremely positive so far: 4.6 stars on Google Play with almost 150 users' ratings…

… but the retention rate is not satisfactory. We are still investigating the causes but we anticipate 2 main factors:

The game is only in Arabic, many people may uninstall it after realizing it's not available in their mother tongue >>> maybe we should make more explicit that the game in only in Arabic in the Store Listing

The Engagement features of the game are still far from being perfect >>> we are working on few key improvements on this subject during the summer

Anyway, the field testing is now focusing on measuring the impact on literacy & well-being in controlled environment (in which retention is not a major issue). We will test more in detail the retention after the summer with an open test (September-November)

In the meantime we made the project fully Open Source (no commercial component is anymore needed to build it) and we made public the "Antura_Arabic" Github repository:

https://github.com/vgwb/Antura_arabic

VGWB applied to few grants to build further on Antura initiative:

Subvention from our local town (Sant Cugat del Valles): a small amount to be used for Digital Ads to promote Antura Arabic among Syrian refugees in Middle East >>> still waiting for the official answer

Subvention from Catalonia Government to produce a Kurdish version of Antura (instead of Arabic) in collaboration with Open Cultural Center, a catalan NGO working with Kurdish refugees in Greece >>> it was rejected because we could not comply all requirements

A grant from Casa Nostra Casa Vostra (a catalan foundation) to develop a prototype of a Spanish version of Antura for foreigners (starting with Arabic speaking immigrants) >>> we were not selected among the few projects that will receive funding

We presented Antura as a tool for literacy in other languages at the

International Forum on ICT and Education 2030

organized by UNESCO in Qingdao (China) and the feedback has been very positive:

We established contact with potential sponsors/partners in Peru (Spanish version), Cambodia (Khmer version) and in the MENA region (promotion of the Arabic version)

NOTE: all Antura channels (

#ea4s_xxx

) are still private because

Slack

does not allow to convert them into public channels, but if you are interested in knowing more about the project or in joining the team, just let us know and we will invite you to the relevant channels!
ONE WORLD A MILLION STORIES

We are working on defining the project and its business model in details, especially within the

B-Value

incubation program (more details below).

The project has become a "A collection of Interactive Tales about sustainable development": here you have a

WIP introduction to the new approach

.

Given new approach we started discussing with UNESCO to have them supporting the project and potentially endorse it with their logo/name: we think it would be beneficial on every front (families, companies and NGOs).

We applied to a subvention from Catalonia Government in collaboration with

Open Cultural Center

to cover the production costs of One World App and the interactive version of the book "

Amic Meu!

" in which Syrian kids tell their story with their drawings >>> we were not selected among the projects that will receive funding
About Us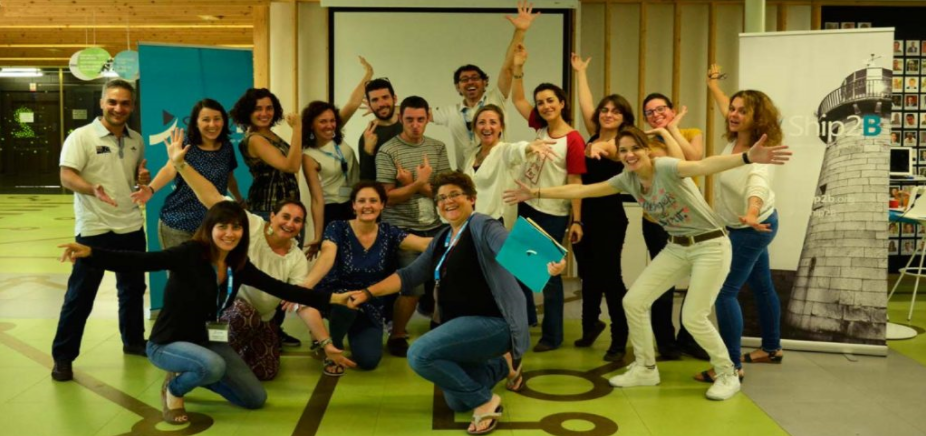 Incubation program specifically designed for Spanish NGOs.

In late May we spent an intensive week in Barcelona together with other 10 NGOs (photo here above) and we are currently following up with all the learnings and networking.

The program will close with a Demo Day on October 19th.

Acceleration program specifically designed for companies offering innovative and sustainable solutions to social and environmental problems in Colombia, USA (Texas only), Spain, Mexico and Turkey.

The program will end in mid-December.
COMMUNITY

We are more than 170! And we are working hard to let every member participate more and more. For example now we are in the process of improving the website: are you available to help? Please let us know!

Fall's Proposal: How many VGWB members does you know in person? Let's improve that in the upcoming months! Please write in

#_vgwb_people

if you're attending meetings, events or just travelling to other places in the world and would like to have a beer (or glass of water or just chat) with VGWB mates.
OTHER NEWS
Montse gave an interview about VGWB and Antura on

Catalunya Radio

on June 13th

In September we will start collaborating with the

Digital Bros Game Academy

in Milan (Italy): all their students will be grouped into teams and each group will develop their final project during few months… and all the projects this year will happen in collaboration with VGWB! We will propose them a set of ideas but they will be also free to propose their concepts.

Francesco has been invited as speaker at the

WIRED Next Fest

in Florence (Italy) on September 30th. It will be a good opportunity to talk about the potential of video games and to present VGWB.