UNESCO just released the report of the International Forum on ICT and Education 2030 held last July in Qingdao to discuss how ICT can be leveraged to accelerate the achievement of the targets of the Education 2030 Agenda, combining the views of policy-makers, academics and the private sector.
The implementation of Qingdao Declaration, includes the four key actions:
priority for equitable access to and use of ICT,
policies to unlock ICT for quality and relevance of learning,
integrated ICT solutions across areas of SDG 4 and the SDGs
fostering the evolution of locally sustainable ICT solutions for education.
Francesco Cavallari, one of the founders of VGWB, was there presenting Antura and the letters!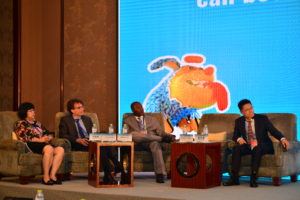 "Sustainable solutions adapt to local needs through a self-evolution process. This breakout
session featured several examples of digital innovations that aim to develop sustainable and
scalable ICT-based solutions
[…]
Antura is a video game designed for Syrian refugees. It is the winner of the Norwegian
government-funded game development contest EduApp4Syria".
Antura (Arabic) was tested in Jordan during the whole summer and we will keep improving it until the end of the year.
In the meantime we are already preparing the ground for the development of new languages, mainly looking for partners and sponsors.
Education 2030 is a major challenge. We are part of the solution.
Join us and be part of the solution.
#WeBelieveInGames